You are here
Thy Kingdom Come Global Moment 2020
We are delighted to be returning to Coventry Cathedral for the third year running to join together for our Thy Kingdom Come Global Moment. This will be at 2:00pm on Friday 22nd May 2020.
This will be the first opportunity for many to meet our Mothers' Union Central Chaplain, Bishop Emma, who will be bringing the Word in the service. We are also very pleased to welcome Reverend Barry Hill who spoke at our 2019 General Meeting.
On the day, there will be a Mothers' Union marketplace with a range of stalls and displays. Coventry Diocese' refugee friends from Syria and Iraq will be providing refreshments. For those coming with children, there will be craft activities for them, (and any interested adults!) before and during the service.
All members, supporters and friends of Mothers' Union are welcome to our service for all ages, with a global feel to reflect our 4 million members worldwide.
For those unable to join us the service will be livestreamed on Facebook.
There is no charge for the service but please let us know if you are planning to attend to help with catering - there will be refreshments available before and after the service. 
Currently this event is still planned to go ahead.
If you have not yet booked your travel for this event then we advise you to wait until we issue a further update. If you are keen to book your travel at this time then we advise you to book the cheapest flexible/cancellable travel you can. If you have already booked your travel you should not do anything at the moment.
We will continue to monitor the current situation and will update this advice again on or before 1st April 2020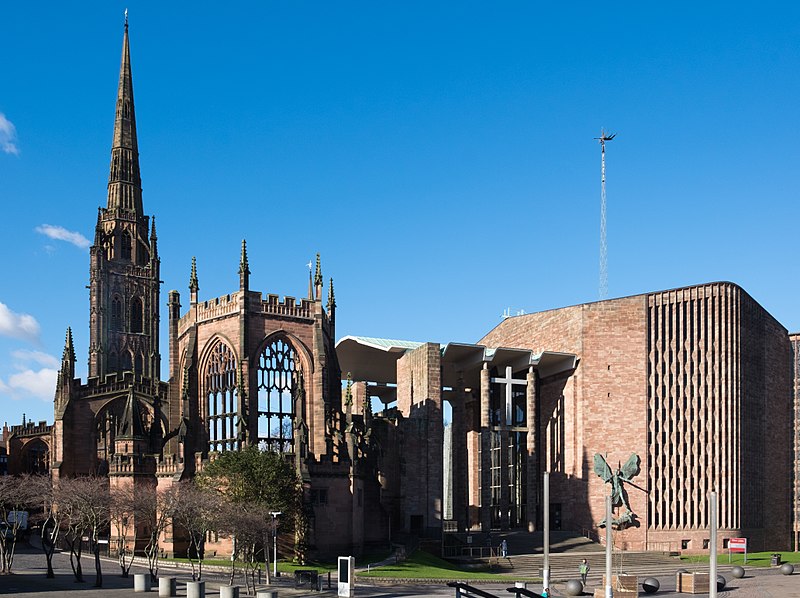 Why not make a day of it?
Coventry Diocese have kindly provided the following tourist information to help you plan your visit.
Things to Do
The Cathedral itself, CV1 5FB, and the nearby old ruins are well worth spending some time exploring.
In addition, very close to the Cathedral, there is the Herbert Art Gallery and Museum, CV1 5QP, which is open 10am - 4pm, and is free admission.
For any transport enthusiasts, there is the Coventry Transport Museum, CV1 1JD, open 10am - 5pm (admission charges apply).
Places to Eat
Close to the Cathedral:
The popular Rising cafe has closed due to refurbishment work in the Cathedral, but has relocated temporarily to Draper's Bar, CV1 5RU
The cafe in Herbert Art Gallery, CV1 5QP, serves coffee, sandwiches, light lunches, snacks etc. 10am - 4pm
Wetherspoons "Flying Standard", CV1 1FL, has usual Wetherspoons menu and has regular public house opening hours
Playwrights, CV1 5RF, is an independent cafe/restaurant, sandwiches, jacket potatoes etc from £5.50, salads and light meals from £7. Open 9am -10pm
5 - 10 minutes walk away (towards the station):
Methodist Central Hall cafe, CV1 2HA, 8am - 2.30pm, sandwiches, light lunches
United Reformed Church cafe, CV1 1EX, 10am - 2pm, light lunches
The usual restaurant and cafe chains are also present in the city centre.
Event venue
Coventry Cathedral, Priory St, Coventry, CV1 5FB