Mothers' Union has a long history of helping refugees across the world and each year we bring emergency relief to approximately 25,000 people fleeing conflict, violence and persecution. We are experienced in dealing with large-scale crises and in many countries we have the potential to help churches and communities right at the grassroots level which maximises the support we can give – through prayer, through advocacy and through practical support.  Here are just some of the things we provide as support for refugees:
Training to people who come across young refugees in their line of work, such as church professionals, lawyers, social workers and the emergency services. We equip them to better understand and respond to the issues faced by refugee children, and improve understanding of those children's rights and safeguarding needs
Humanitarian aid such as food, shelter, clothes and water to refugees 
Fund post-trauma counselling and support.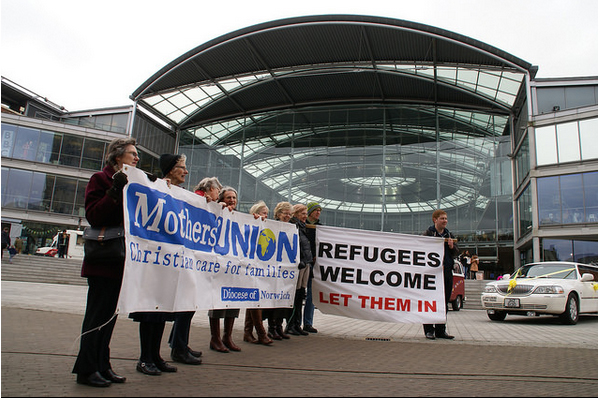 In recent years across the United Kingdom and Ireland, many dioceses and branches have made contact with agencies preparing a coordinated approach towards receiving refugees in their local communities. Members have also taken part in marches of support in cities such as London and Birmingham; engaged in activism and petitions towards local authorities, while others continue their existing activities to provide food and clothing for refugees and asylum seekers. Some of the projects that have been set up are:
Collections of toiletries, food and clothing to support the local refugee centres

Preparing moses baskets containing all that a mother needs for a newborn baby for refugees in camps in Calais

Mothers' Union Warwick To9ether (MUWT) heard of the imminent arrival of Syrian refugee families into their district, and under the Government resettlement scheme and with Churches Together in Warwick they collected household cleaning packs for each of the five families
Six Syrian refugee families arrived in Norwich in February 2017 and a further seven families in August. The generosity of the members meant they purchased bedding totalling £2,250 for 52 men, women and children and a group of members helped clean the houses and make up the beds.