You are here

Mothers' Union on the run….
In St Edmundsbury and Ipswich Diocese the Mothers' Union has been putting into practice our local triennium strategy – it's as simple as A,B,C (AFIA, Befriending and Clewer) – trying to find innovative ways of building relationships in the communities where we live.
Under 'Growing in God', the Mothers' Union has a real opportunity to influence the communities in which we live and serve. But we cannot be influential if we have not made connections, and we cannot make connections unless we talk to people, befriend them; and in order to do this we need to provide opportunities to meet with our neighbours. Some of our branches are already doing this through events like organising lunch clubs, supporting the Meet Up Mondays project, running groups for those with memory-loss, or even just chatting over the garden fence. We recognise how easy it is to be passive, but unless someone actually does something, nothing changes….
On the five Friday evenings in August 2019, we organised a "Park Run" around the village hall recreation ground – all 440 yards (4 times round = 1 mile!) Through posters and door-to-door flyers, everyone in the village was invited to come – new residents, families, children, visitors, those living on their own, the recently retired's – everyone. The aim was to provide an opportunity to introduce new residents to each other, to renew acquaintances, and to meet and chat with some of the regular dog-walkers. The Village Hall Committee came up trumps and opened up the Bar for all those who covered the distance.
Some participants were fast (really fast, like the 10 year-old whose school had been regularly organising the mile-run before the start of lessons), others decided it might be better to jog or walk, some hobbled round with the help of an arm or walking stick, and all were encouraged along by the 8-month pregnant mum with her two young children who did it with ease! Ages ranged from 2 ½ to 80 years old, and everyone finished the course. Well done!
We now have five "regulars" who have continued to come for "health-benefit" and turn up around 8.00 am (or for one, its 10.00 am) on Monday to Friday to circumnavigate the field … and the unexpected bonuses? Being a linear village, walking and running on the pavement to and from the hall also means that the traffic has been forced to slow down through our village because of pedestrians, the garden hedges have been clipped back, the weeds on the footpath trodden down, a cheery "hello" to passers by, the unsightly litter regularly picked up, and the irresponsible dog-poo binned – the housebound watch through their windows and wave as they see life returning to our community. We have even learnt the names of our neighbours – how amazing is that? And all because we want to encourage whole families to join in an activity together, to befriend our neighbours, and to involve the wider community as we seek to build the kingdom of God in the place he has put us.
Back in 1989, the two "septuagenarians" (below) were sponsored by branch members right across the diocese to run in the London Marathon for the Mothers' Union work overseas. The donated funds raised were in excess of £3,000!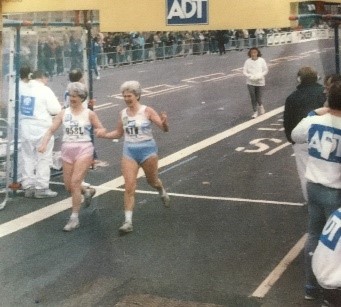 And even today, when visiting branches in our diocese, there are still some members who can recall the occasion - but where did those 30 years go?
Written by Linda Ginn
Diocesan President
Click here for more stories from the St Edmundsbury and Ipswich Diocese