You are here
Mothers' Union Marks VE Day 75 with a Tribute
Mothers' Union Marks VE Day 75 with a Tribute
VE Day is a time for coming together to commemorate a collective achievement. It has been three quarters of a century since that day of triumph, a day when a war ended. VE Day saw street parties and jubilation, sharing good news and irreducible cheer.  
Whilst recognising the efforts of a nation, we should highlight the individual achievements where we can. One of our oldest living members played a crucial role on the home front during WWII.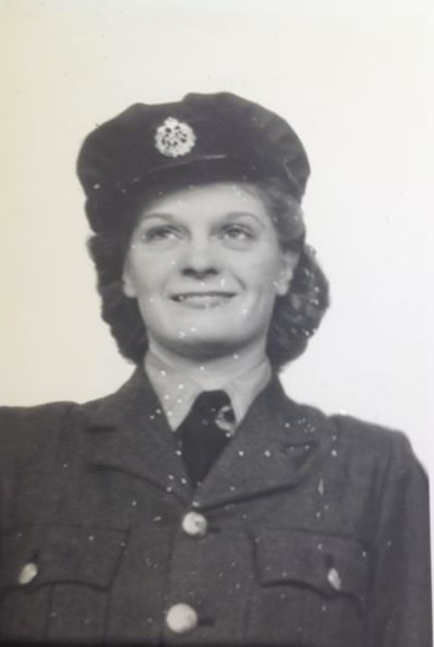 Celebrating one of our own 
Daphne Hutchins (nee Murray) who is now 96, volunteered for the WAAF (Women's Auxiliary Air Force) as soon as she was old enough at the age of seventeen and a half, in 1941.  
During the war years, she first trained to be a teleprinter operator. Having acquired the relevant skills and necessary training, she served at a base near Chatham in Kent. Her involvement came at a critical phase in the war effort as this was at the height of the bombing attacks on London and the South Coast.  
In their off-duty time Daphne and her friends would go to the local NAAFI (Navy Army and Air Force Institute). There was music and dancing and good times were treasured despite the national situation.  
On one of these occasions she noticed a young curly haired sailor playing the piano, their eyes locked and that night the sailor asked if he could see her home… the two married soon after Daphne was "demobbed" in 1946. 
A day of wider remembrance and hope 
On VE Day 75 we also think of and remember the millions who served so that there would be peace in our time. We remember the hard work and diligence of people like Daphne who were part of that great effort. 
In the times of COVID-19 that we are living in right now, some parallels can be drawn. There is a similar widespread struggle which requires a similar national effort. We are of course internationally linked too, all in the same boat dealing with lockdowns, economic woes, scarcities and the perils of misinformation.  
On this day we should primarily remember those that fought or supported the war effort. Yet we can take heart that in the midst of chaos and confusion in the 20th century, people rallied together and good things such as stories like Daphne's, came out of those troubled times.  
One day soon 
Whilst we can't celebrate VE Day as we might have imagined, out on the streets with our loved ones and friends, we can bring to mind those that we care for and look to a brighter day at the end of all of this too. We can hope and we can pray that there will be a day soon when there is a vaccine for COVID-19.   
More importantly, we know in our hearts that there will be a day when we look back and celebrate all people, simply for sacrificing some of our freedoms; for staying home, for continuing to find a way to care for others, and keeping our hope alive and our faith in action.