You are here

Plenty to think about after a year like no other
The last year has been a year like no other – and tough almost beyond endurance for many, writes CEO Bev Jullien
Our National Day of Reflection tomorrow on March 23, is part of coming to terms, as a nation, with the way our life has been turned upside down due to COVID-19 – and to start to reflect on how we can learn from this to truly "build back better", and address some of the deep divides in our society, which the pandemic has made so starkly visible.
The pandemic has in many ways shown communities at their best – supporting one another  with a quiet 'helping hand", and unprecedented numbers volunteering, for example, to collect prescriptions, do shopping for others or helping with the roll-out of the vaccine programme.
Mothers' Union members have helped throughout – often, the seemingly small things that really add up, such as making scrubs and scrub bags for hospital workers; making pairs of knitted hearts for those alone on coronavirus wards and their loved ones, so that they feel less alone; phone calls to the isolated; a Book of Comfort and doorstep gifts for people who needed them.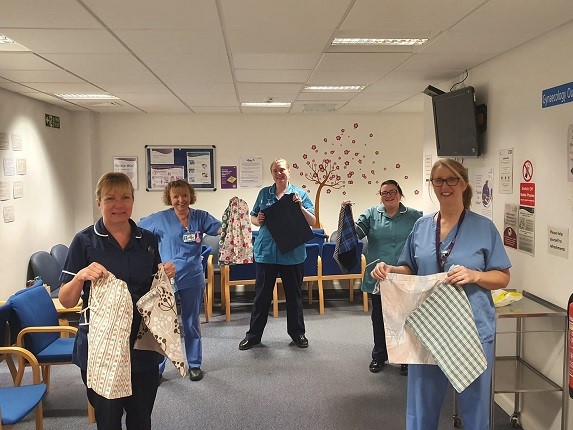 Worldwide, members helped with practical support, spreading messages about the need for social distancing, teaching hand hygiene and countering fake news about COVID-19. To keep in touch, even those wary and inexperienced in using technology embraced Zoom and Facetime with aplomb, helping to support one another and stay connected around the world.
Now, as in Britain and Ireland we begin to see light and hope for a new beginning, we are at a crossroads, and have the opportunity to reflect – to acknowledge the grief of those who have lost loved ones through COVID or others causes, and to walk alongside them – as well as to recognize those who have suffered most, financially or spiritually, and to reflect on  how we, called by our faith and  together with others, can work to address inequality, and truly "build back better" for all.
COVID has shown that, as a nation, we are deeply divided into haves and have nots, and the latter have suffered deeply, too many reduced to queuing round the block to access foodbanks. Some groups have been disproportionately affected, the elderly, the poor and BAME communities, and gender-based violence has escalated and been brought into sharp focus by the death of Sarah Everard.
As members of Mothers' Union, let us prayerfully reflect on what we can continue to do, or start to do differently, to create a "new normal" – sustaining the new togetherness across boundaries, and speaking out and taking action to end violence, poverty and injustice.
Rebuilding hope and confidence
 Some of you will rebuild the deserted ruins of your cities.
Then you will be known as a rebuilder of walls and a restorer of homes. Isaiah 58:12 (NLT)
 
Loving Lord, we look to the future with faith.
 Use us to rebuild hope and confidence in those you call us to serve.
God of compassion, God-with-us, be with us in these times of uncertainty.
Break into our lives, rekindle our hope and breathe love into our communities, that we might find new ways of supporting and upholding one another, bearing witness to your inclusive love of family, friend, neighbour, and stranger alike.
May our love for those most vulnerable in our community become a beacon of hope for all.
In faith, hope, and love, in the name of Jesus, we pray. Amen
Rev Denise Liersch
Cover Photo by Tai's Captures on Unsplash